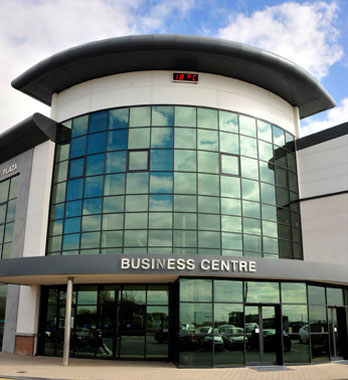 What's on Offer:
We offer a wide range of office suites from our entry level office suite measuring 12 Sq Mtrs. suitable for one person up to 300 Sq Mtrs. multi-unit office suites suitable for 30 people.
There are a wide range of office suite configurations to suit open plan working environments and also cellular offices that provide more privacy. The choice is yours since we will customize the layout of office suites to suit your individual requirements.
All offices are tastefully and stylishly furnished and there is a wide range of telecommunications and Broadband facilities available that can be configured to suit each company's individual requirements.
Finally through continuous investment in equipment and systems all our facilities comply with current best practice standards.
The Benefits:
A comprehensive professional, cost effective corporate office solution that allows management to focus on running the core business activity, and delegating those tiresome non-core, time consuming facility management functions to others.
The benefits for you and your business include:
Prompt instant occupancy with only two months legal commitment.
Predetermined fixed costs, no hidden extras.
Free Telephone Calls to all Local, National and Mobile Irish Telephone Numbers
You know exactly what your costs are from the outset.
No need to buy furniture or expensive office equipment.
No need to employ receptionist staff or engage cleaning and maintenance staff.
A professional corporate image for your business.
The meeting rooms have been fitted with excellent AV equipment which should impress your clients.
24 Hours easy access and total security.
Expand or downsize your office suite promptly at any time.
Rental agreements are based on the net occupied area and exclude all common areas.
If you want your business costs to be fixed and yet remain dynamic in an ever-changing business climate Bracetown Business Park's Serviced offices are the best choice.
| | |
| --- | --- |
| CLICK IMAGES FOR A LARGER VIEW + | |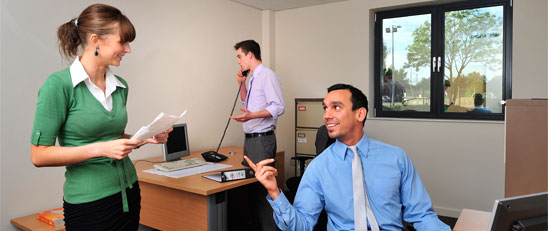 What's Included in The Monthly Rental:
Receptionist to Answer Incoming Telephone Calls & Take Messages.
All offices are fully furnished, (Refer to Questions & Answers Section below for a full inventory of furniture).
All office suites have been stylishly decorated and carpeted.
All Local, National & Irish Mobile Calls are free.
There are four Meeting Rooms fully fitted with state of the art Audio Visual equipment.
There is a full array of Telecommunication & IT systems configured to suit your business.
Direct fibre optic access to Dublin's T50 broadband super highway network.
All normal electricity usage is included in the rental fee.
All heating and air conditioning usage is included within the license fee.
Avail of the use of the Coffee Dock and any of the Three Tea Stations.
All regular cleaning of office suites, toilets & common areas.
Daily disposal of regular & recyclable refuse.
Regular cleaning of all windows internally and externally.
All electrical & building repairs will be undertaken in a prompt and timely fashion.
All building insurance premiums are paid by the property management company.
All Municipal Rates and water charges are paid for by the property management company.
We provide a daily postal delivery and collection service.
We provide a letter and parcel franking service for our clients.
We provide clients with a twice weekly bank lodgement service free of charge.
All offices are individually protected by monitored fire and intruder alarm systems.
The site is protected by a CCTV security system that is monitored outside normal hours.
Clients can avail of unrestricted access to the Business Park at any time of the day or night.
If a power failure occurs, an automatic standby generator will become fully operational within 10 seconds of the mains electricity outage occurring.
There are two covered smoking areas.
Clients have access to a fire proof strong room.
There is a paper shredding machine available for clients to destroy confidential papers.
There are in excess of 350 car parking spaces.
There is a good public transport service with more than eight busses per hour.

Questions & Answers regarding Serviced Offices
What is a serviced office?
Serviced Offices can be of any size, however they are leased at a fixed all in rental price under a flexible License Agreement, so that occupiers can terminate their letting agreements at any time on two months notice. All normal occupancy costs including electricity, heating, air conditioning, insurance, municipal rates, cleaning, office furnishings, as well as all local, National & mobile telephone calls are included in our fixed monthly fee. In addition occupiers only pay for the net area that they occupy and they do not pay for the common areas that include the boardrooms, tea stations and reception areas as well as the toilets.
How long will it take to set up my serviced office?
A new client can take up occupancy within one week of their initial enquiry.
Are the offices fully furnished?
Yes, all offices are supplied fully furnished with one complete set of furniture per every 125 Sq Ft. A complete set of furniture comprises of an executive desk, pedestal and executive swivel chair, two visitors chairs, one coffee table, one four drawer filing cabinet, and a coat stand.
Can I bring my own office furniture and photo copier with me?
Yes.
Can I configure my serviced office to suit my own particular preferences?
Yes.
What is the minimum duration I must sign up for?
Two months, given that companies can vacate at any time upon giving two months notice.
What happens if my company needs to increase or down size in the future?
No, problem, just speak with the receptionist and they will facilitate your new requirement.
Are there any canteen and catering facilities available?
There are four tea stations, and a communal coffee dock fitted with two vending machines. Arrangements can be made to have cold buffet platters delivered for lunchtime working meetings.
Can I gain access to my office at any time?
Yes, of course, at night and at weekends. - There is 24 hrs access available.
Is the cost of having my office suite cleaned included in my rental fee?
Yes, all offices are regularly cleaned while toilets etc cleaned daily.
Is there ample car parking?
Yes, with over 350 car parking spaces there is ample free car parking.
Is there Broadband?
Yes, two providers to ensure continuity of service with up to 1 GB of Bandwidth available.
Can I have my own telephone number?
Yes.
Can I transfer my old telephone number to Bracetown?
Yes, more than likely subject to what telephone exchange your existing telephone number is located in.
What happens if a caller dials my number when I am out of the office?
The choice is yours, you can have your phone programmed to call forward onto your mobile phone, or to our receptionist who can answer the call and take a message or alternatively she can put the call through to your personalized voice mail box which is part of the Bracetown Business Park telephone system. The choice is yours.
Is there disabled access?
Yes, the building complies fully with building regulations regarding disabled access.
How will my business be visible in Bracetown Business Park?
We place the trading name of each company on our Name Plate Sign Board at our main entrance
Are there any hotels in the area?
Yes, there are five hotels located within 5kms of Bracetown Business Park, (Refer to the home page for more information on Nearby Amenities).
What are the train, buses and taxi services like in the area?
There will be a new train station opening in September 2010 which is located within two minutes drive of the Business Park. There are in excess of eight public buses servicing the Business Park every hour. Refer to Bus Time Table that forms part of the Location Section of this web site. There are also two local taxi companies who will respond at short notice to any requests.
Are the offices air-conditioned?
Yes.
Is there client confidentiality?
Yes, this is something that we take very seriously.
Are the reception staff available to undertake secretarial work on behalf of clients?
Yes, they are always available to assist and are happy to undertake, word processing, mail merges, photocopying, laminating and letter franking on behalf of clients.
What is the situation regarding sending standard letters out by post?
Just leave your mail at the main reception desk before 15:45 each afternoon and the receptionist will frank the mail and organise it to have it collected by An Post.
What is the cost of hiring a meeting room?
There is no charge, each of the four private meeting rooms are available to clients free of charge.
How do I reserve a meeting room and are they usually fully booked weeks in advance?
The reception staff co-ordinate the reserving of the four meeting rooms and with so many meeting rooms available, it is highly unlikely that they will all be reserved at the same time.
Do you provide virtual office space?
No, most companies looking for virtual offices want Dublin 1 or Dublin 2 addresses and since we are not in a position to offer such an address we have not entered this segment of the market.
How can I proceed and rent an office?
You can make an appointment or request an application form by phoning 01-8014000 or sending an Email to reception@bracetownbusinesspark.com